Mount Gulg B5
Mount Gulg B5 is home to Marilith, the Fiend of Fire. Though this map is one of the largest in Final Fantasy I, it is largely empty. All treasure chests except one are empty. The Flame Mail is located in the westernmost chamber, guarded by a Fire Lizard and Flame Dragon.
A teleporter behind Marilith will transport the Light Warriors to the World Map after they successfully restore the Crystal of Fire.
2
Flame Mail
Mail infused with the power of fire.


3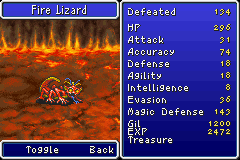 4
5