Sunken Shrine 2F
Sunken Shrine 2F is home to the second Ribbon the Light Warriors can acquire and is the only floor of the Sunken Shrine that contains forced encounters. Other notable treasures includes the Light Axe, a weapon that casts Diara when used in battle, and the Giant's Gloves, an item that casts Saber in battle. The southeastern portion of the map, while large, contains nothing of interest and only serves as a means to transport the Light Warriors back to Sunken Shrine 3F.
5
Giant's Gloves
Gloves that cast Saber when used.



6
Light Axe
An axe that casts Diara when used.
ATK: 28
ACC: 15
EVA: 0
Crit.Rt: 29
Spell: Diara


7
Ribbon
Ribbon that wards off special attacks.








11
12
13
14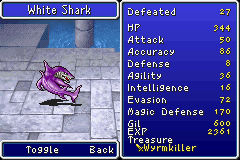 15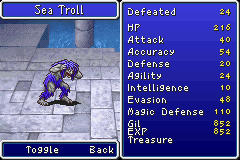 16